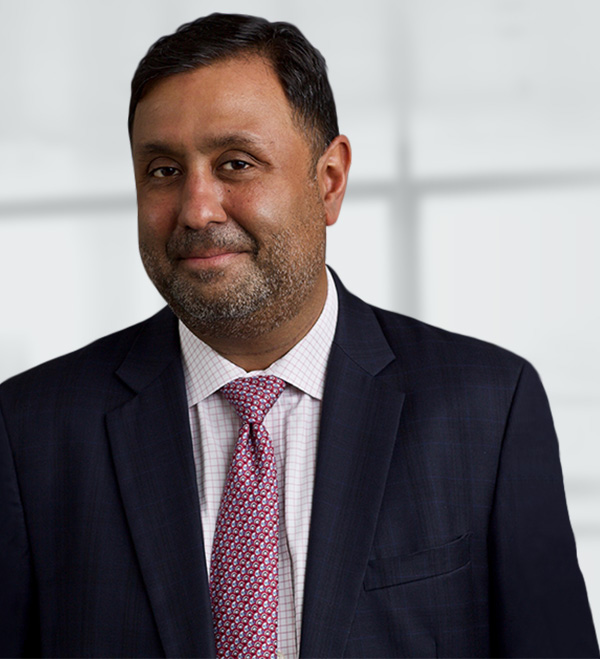 Mehul R Shah,
M.D.
Board Certified & Fellowship Trained Orthopaedic Surgeon
Mehul R. Shah, MD is an Assistant Professor of Orthopaedic Surgery at the New York University-Hospital of Joint Diseases. He is a board certified, fellowship trained orthopaedic surgeon. Dr. Shah specializes in the orthopaedic care of sports related injuries as well as arthroscopic and reconstructive surgery of the shoulder, knee and ankle.
A graduate of the Johns Hopkins University and the Mount Sinai School of Medicine, Dr. Shah completed his residency in orthopaedic surgery at the prestigious NYU Langone Orthopedic Hospital. He then received further training in advanced arthroscopic and reconstructive surgery at the renowned Lenox Hill Hospital Sports Medicine fellowship. During his fellowship training, Dr. Shah participated in the orthopaedic care of the New York Jets, New York Islanders, Hofstra University, and Hunter College.
Dr. Shah's clinical interests include meniscal surgery, ligamentous reconstruction of the knee, cartilage restoration procedures, and rotator cuff repair.
Assistant Professor
NYU-Hospital for Joint Diseases, Dept of Orthopaedics, New York, NY
Fellow
Lenox Hill Hospital / Nicholas Institute of Sports Medicine and Athletic Trauma, New York, NY
Resident
New York University/Hospital for Joint Diseases New York, NY
M.D.
Mount Sinai School of Medicine New York, NY
B.A.
Johns Hopkins University (graduated with University Honors) Baltimore, MD Major: Biology
ABOS Part II Board Exam Passed (Board Certified 7/23/09)
ABOS Part I Board Exam 242 / 96th percentile
New York Sate Medical License
American Heart Association: Advanced and Basic Cardiac Life Support
Phi Beta Kappa Honor Society
Johns Hopkins University General University Honors
Johns Hopkins University Dean's List: Fall '93, Spring '94, Fall '94, Fall '95, Fall '96
Johns Hopkins University Office of Mulitcultural Student Affairs Award '94, '95, '96, '97
Golden Key National Honor Society
Strauss EJ, Fonseca LE, Shah MR, Youm T. Management of focal cartilage defects in the knee - Is ACI the answer? Bull Hosp Jt Dis. 2011;69(1):63-72
Kaplan KM, Shah MR, Youm T. Femoroacetabular impingement--diagnosis and treatment. Bull Hosp Jt Dis. 2010;68(2):70-5
Shah MR, Strauss E, Kaplan KM, Jazrawi L, Rosen J. Initial Loop and Knot Security of Arthroscopic Knots Using High Strength Sutures. Arthroscopy 2007;23(8):884-888
Shah MR, Kaplan K, Meislin R. Bosco JA., Articular Cartilage Restoration of the Knee. Bull Hosp Jt Dis. 2007;65(1):51-60
Shah MR, Aharonoff GB, Wolinsky P, Zuckerman JD, Koval KJ., Outcome After Hip Fracture in Individuals 90 Years of Age and Older. Journal of Orthopaedic Trauma, 2001;15:34-39
*Reprinted in the 15th Anniversary Supplement of the Journal Orthopaedic Trauma, 2003;17(8 Suppl):S6-11
Levin SM, Nicholas SJ, Seneviratne AM, McHugh MP, Tyler TF, Shah MR. The Effect of Passive Knee Flexion on Tension in the Medial Patellofemoral Ligament. Poster presented at the AOSSM Annual Meeting, Orlando, FL July 10-13, 2008
Amkoong, S, Sherman O, Shah MR, Rosen J. Need for MRI in Treatment of Shoulder and Knee Conditions in Orthopaedics. Poster presented at the American Academy of Orthopaedic Surgeons Annual Meeting, Washington, D.C. February 23-27, 2005
Shah MR, Aharonoff GB, Zuckerman JD, Koval KJ. Hip Fractures in Nonagenarians. Poster presented at the American Academy of Orthopaedic Surgeons Annual Meeting, Anaheim, California February 4-8, 1999
Shah MR, Aharonoff GB, Wolinsky P, Zuckerman JD, Koval KJ. Outcome After Hip Fracture in Individuals 90 Years of Age and Older.  Poster presented at the Mount Sinai School of Medicine Medical Student Research Day, New York, New York February 24, 2000
Aharonoff GB, Shah MR, Zuckerman JD, Koval KJ. Outcome After Hip Fracture in Individuals 90 Years of Age and Older. Poster presented at the Annual meeting of the American Public Health Association, Chicago, Illinois November 1999
Aharonoff GB, Shah MR, Zuckerman JD, Koval KJ. Outcome After Hip Fracture in Individuals 90 Years of Age and Older. Poster presented at the 2000 Annual Scientific Meeting of the American Geriatrics Society and the American Federation for Aging Research, Nashville, Tennessee May 17-21 2000